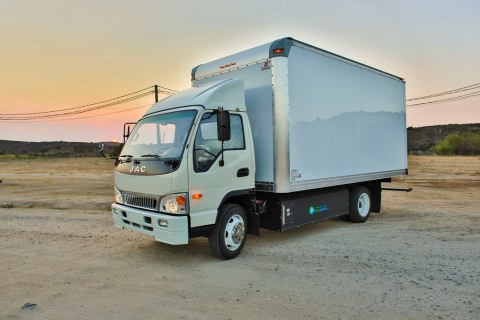 SANTA ANA, Calif.–(BUSINESS WIRE)–Greenkraft Inc. (OTCQB: GKIT), a California based manufacturer of alternative fuel trucks and alternative fuel systems, today announced that the California Energy Commission (CEC) approved Greenkraft's and Efficient Drivetrains, Inc.'s (EDI) joint application for a grant to develop a compressed natural gas (CNG)-hybrid electric vehicle. The CEC through its Energy Research and Development Division jointly awarded funding of up to $900,000 for the development of a Class-4 vehicle that combines the benefits of Greenkraft's CNG trucks and EDI's high-efficiency plugin hybrid electric vehicle (PHEV) technology.
Greenkraft will supply the Natural Gas powered truck to EDI for the project. EDI will then integrate Greenkraft's Natural Gas truck with its PHEV powertrain. This new CNG-PHEV combined truck is being designed to improve and show the fuel economy of both a Natural Gas and electric vehicle in one. This project is consistent with Greenkraft's goal to offer cost-efficient alternative fuel products in the marketplace.
About Greenkraft:
Greenkraft, Inc. designs, develops, and manufactures compressed natural gas (CNG) and Liquid Propane Gas (LPG) forward cabin trucks, alternative fuel systems and alternative fuel engines. For more information, please visit our website at www.greenkraftinc.com.
About EDI:
Efficient Drivetrains, Inc. (EDI) develops and markets a range of state-of-the-art proprietary drivetrain products and technologies that have direct application in PHEVs, HEVs, and BEVs worldwide. EDI's leading-edge hybrid-electric drivetrain systems and technologies provide significant cost and efficiency advantages for parallel and series hybrid drivetrain architectures across nearly all platform classes and configurations. In addition, EDI has developed a game-changing technology for new types of continuously variable transmissions (CVT) that are the most efficient and largest capacity transmissions of their type in the industry today. EDI is currently active in automotive projects throughout North America and the APAC region. Visit http://www.efficientdrivetrains.com for more information about EDI.
Contacts
Greenkraft Inc.
Investor Relations Contact
Frank Ziegler, 714-545-7777